Geo-targeted marketing campaigns based on insight
Gain insight into the factors that influence customer behaviour to create more integrated and effective geo-targeted marketing campaigns.
Location specific marketing
Do you have 10 minutes to explore what Periscope® could do for your company?
Periscope® Technology
Periscope® is an advanced Cloud-based system that's simple enough for anyone to use.
Periscope® lets you:
Periscope® in action
Marketing campaigns generate better results when they're geo-targeted with location intelligence.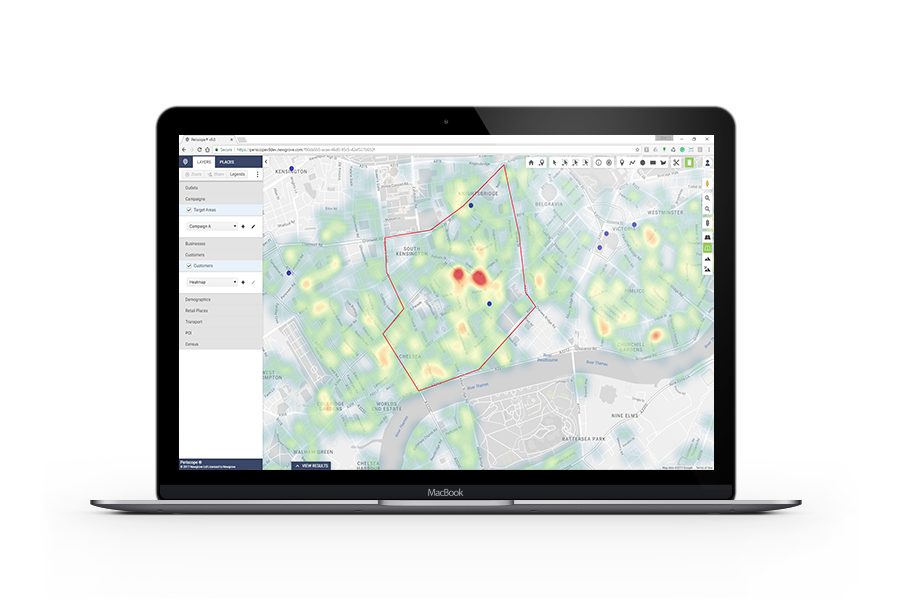 Periscope® solves two critical marketing problems:
Making sense of marketing data
Huge volumes of marketing data can now be collated, but as it can't be presented intuitively, it takes too long to draw actionable conclusions
Connecting with consumers
Influencing consumer behaviour is harder than ever, as brands deploy increasingly complex marketing resources to compete for online and offline revenue sources
Periscope® lets you bring all marketing data together and view it on your own secure, corporate version of Google Maps.
Combine your own customer records with your competitors', then overlay up to 200 additional attributes to create a comprehensive picture of customer trends within a defined area.
Use this insight to build customer personas, predict customer behaviour, identify lucrative new business opportunities and make advertising decisions for your brand.
Periscope® can be used to:
– Build customer personas based on sales records and local demography
– Identify new potential customers based on previous buyer trends
– Target nearby customers with relevant online and offline advertising
– Incentivise customers to travel to your store using rewards or discounts
– Refine and geo-target bulk marketing communications to suit specific regions
– Identify areas with the right characteristics for your product/service
– Plan direct and OOH marketing campaigns based on local demography, branch location and competitor impact
"When we were looking for someone to build a new system for us, Newgrove came highly recommended and we have had no reason, since, to question that. From the initial pitch through to delivery and ongoing support Newgrove has always responded positively, professionally and quickly. Nothing is impossible – they always find a solution."
Martyn Gates
Do you have 10 minutes to explore what Periscope® could do for your company?